What is Microsoft Teams?
Microsoft Teams is a collaboration tool which provides an online space for a group of people working together. The Team provides communication tools, file storage, information storage and a place for video/text/audio messaging and meetings.
You would create a Microsoft Team for a group of people working together – on a project or together in the long term as a group of staff like – Finance, HR, Science Teachers, Leadership Team, Directors, etc etc.
The Microsoft Teams the core features which support collaboration are:
Chat – connect to anyone in your organisation, not just those you are Team members with
Teams – different Teams for different groups of people. Contains Conversations, Files, OneNote, links)
Meetings – host or join online meetings (audio or video) which can be recorded and saved in Teams
Here's what the Teams interface looks like: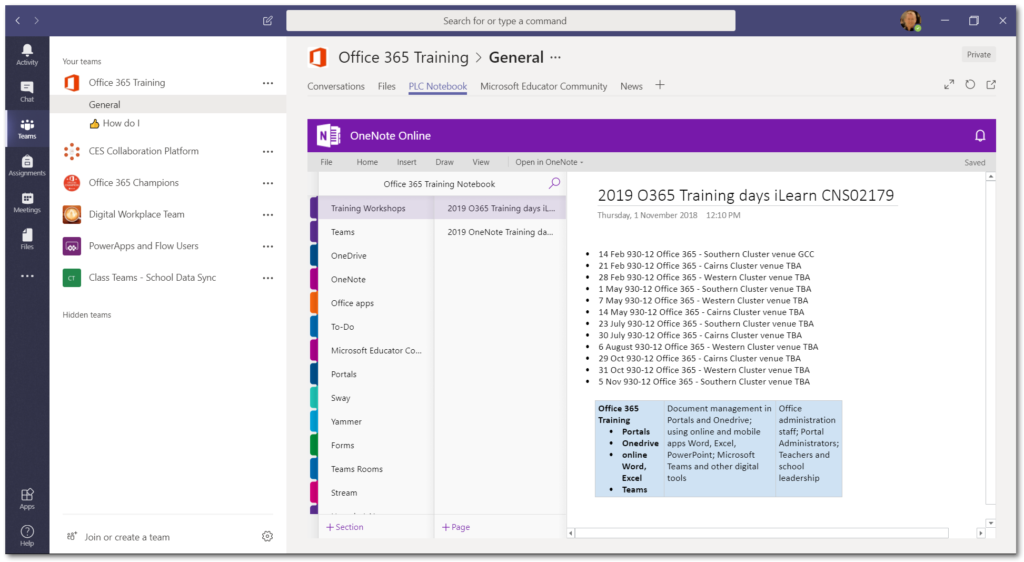 You can see in the layout that once you have selected the Teams module within the Teams window you have sections titled: Conversations, Files and PLC Notebook.
Conversations
The conversations area is where Team members can post new conversations (like posts in a discussion board). Post a New Conversation and team members can reply. Use text, images, emojis, GIFs, and @mention a colleague to alert them that they have been mentioned/tagged in a post.
Files
This is the file storage location for members of this team. Office documents can be edited from within Teams, using the online versions of Office apps, or opened on your computer using installed versions of Word, Excel, PowerPoint etc. This Files section can also be synced to your laptop just like your OneDrive by opening the Files section in SharePoint and clicking the Sync button. Typically the files stored here would be considered working documents – documents which require input from multiple team members. A SharePoint portal would be used to share finalised documents
PLC Notebook
Every Team includes a OneNote notebook. This is a great tool on it's own and within Teams it provides a shared notebook to store information the team needs. For example the notebook could have sections in it to: store team meeting agendas and minutes; "How to" information for shared or team tasks; project notes; reference information on venues and travel; notes from professional development workshops members have attended;
Microsoft Videos for getting started and using Teams

Follow this link to see a whole swag of helpful videos:
https://support.office.com/en-us/article/microsoft-teams-video-training-4f108e54-240b-4351-8084-b1089f0d21d7?ui=en-US&rs=en-US&ad=US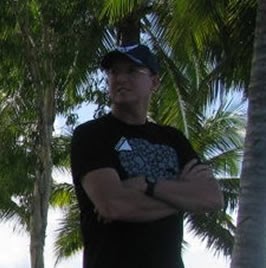 Campbell Smythe
Learning and Collaboration Technologies advisor
I am a Learning and Collaboration technologies advisor living in Cairns, Australia. An educational technology leadership background and experience managing a globally located information technology team, has given me wide experience in the application of digital technologies to a variety of educational and workplace contexts.
Certified Microsoft Service Adoption Specialist
Microsoft Innovative Educator
Apple Teacher
Certified Google Educator
Mountain Biker and Triathlete
Former Asia Pacific IS Manager MAFINT
Former Director of eLearning and ICT